Description: Ashampoo Photo Commander 17 is the complete solution to view, edit and organize your photos. Bring order to your collection, optimize any number of photos simultaneously and create stylish calendars, cards, or entire slideshows in no time! Turn any number of unsorted photos into a genuine collection in just a few clicks, whether beginner, enthusiast, or professional!
You are reading: Ashampoo Photo Commander 17.0.3 (x64) DC 09.11.2023 Multilingual – FileKILO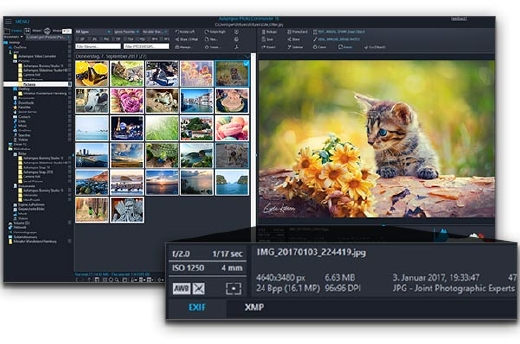 A modern technology overhaul for a classic
Ashampoo Photo Commander 17 offers the necessary technology upgrade for blazing performance, up-to-date image formats, and full Windows 11 compatibility. Thanks to more efficient 64-bit memory and CPU management, version 17 is up to 40% faster than version 16. This means faster image browsing and opening. We've also overhauled the burning and scanning routines and improved the codec support (PNG, WEBP, JXR, etc.). Get ready for a futureproof Photo Commander with modern visuals and top-notch performance!
Full Windows 11 compatibility
Native 64-bit support for optimal memory usage and speed
Advanced Vector Extensions (AVX) support for optimized CPU usage
40% faster loading of JPGs
Numerous codec upgrades (PNG, WEBP, JXR, etc.)
New burning and scanning technologies
Lightning-fast file browser to low memory footprint
Enhanced video playback
New wizards for slideshows, batch processing, and duplicate scans
Convert WebP into JPG
Collages, cards and frames included
From birthdays to Christmas: Create just the right card in no time
Get creative: Photo Commander 17 lets you create stylish collages and elegant cards with the help of numerous included templates. Add nifty frames to your photos and combine images and texts to create greeting cards for holidays, parties, and special occasions.
The image viewer with the perfect overview
Smart-group and sort by capture date, time, or file name
With Ashampoo Photo Commander 17, you always stay on top of your photos. Clever filter and grouping options help you keep track no matter how large your photo collections are! Sort chronologically, thematically and by location or apply custom filters and instantly find every shot!
Design slideshows with ease
Create high-res slideshows with music
Create high-resolution 4K slideshows with fitting transitions and underline your shots with music in various formats. Finished projects are instantly previewable with the new video playbar and can be burned to disc straightaway.
View more : Coolmuster ePub Converter 2.2.11 – FileKILO
Auto-enhance your photos
Smart algorithms for better colors or contrasts and less noise
Even underwhelming shots turn into precious vacation memories thanks to image auto-correction. Remove scratches and eliminate image noise or red eyes instantly! Auto-correction does most of the heavy lifting for you–even in batch processing mode so you can polish your entire library in one go! Optimize colors or contrasts and get rid of compression artifacts at the click of a button!
Present your photos in style
Versatile presentation mode for every occasion
Whether you're enjoying your photos on your own or with friends and family, the new presentation mode is simply genius–especially in multi-display environments. You control the presentation on one display and your viewers get to enjoy the results on another, e.g. a video projector. You can even make live adjustments without leaving the presentation!
Apply geotags
No more confusion about shooting locations
Modern cameras and cellphones use geotagging to save location information along with each shot. Ashampoo Photo Commander 17 not only uses these tags for sorting but can also edit and create them. You'll get precise information down to street level! Want to see all photos from Paris? No problem. You can even view each location in Google Maps instantly!
Crop and edit photos
Beginner or professional user: Make the most of your shots
Crop your photos with ease, straighten image horizons and accentuate colors. Cut out individual people and objects and modify image perspective at your convenience. Play with numerous great photo effects and go professional with gradation curves and tonal value correction! Whether quick fix or detailed post-processing: Ashampoo Photo Commander 17 has got you covered!
A real feature beast for your photos
20 years in the making–and it shows!
Ashampoo Photo Commander includes over 200 photo-related functions and is rightly called "feature beast" by its fans. And it's true: You can click your way through he program and keep discovering new handy features and tools that other companies would gladly sell you as separate apps. Your fun journey into the world of photo editing begins today!
Salvage or create
Breathe new life into bad shots or create stunning panoramic pictures
Not every shot is a hit! Photo Commander 17 includes a special auto-feature that fixes overexposed or washed out colors with great results. You can also apply effects individually to add more vibrancy and structure to your shots, or combine them into breathtaking panoramic views.
Batch-processing done right
Process entire photo libraries in one go
Convert multiple images into different formats at once and adjust image size and aspect ratio in the process. Add watermarks or frames to your photos and rotate or mirror them to your needs. Modify brightness and contrast settings or eliminate image noise. You can do all that with batch-processing and save loads of time and effort!
Find duplicates, edit metadata, smart-search for files
Find the one vacation shot you've been looking for among hundreds of photos!
Ashampoo Photo Commander is handy indeed! It scans your library for duplicates and helps you filter your photos by name, EXIF/IPTC data, or comments. Looking for a needle in a haystack has just become super-easy. You can even add missing metadata manually so you'll never lose track of your photos again!
View more : Amolto Call Recorder Premium for Skype 3.28.1 – FileKILO
Fast multi-purpose image editing
A quick fix for common image issues
Discover tools that optimize your photos, add filters and polish contrasts and colors. Straighten image horizons, clone areas, and accentuate details with the focus or tilt-shift effect. Adjust image size and rotation or crop your photos perfectly. Why buy several programs when you can just get the one that does it all in a single interface?
Helpful wizards
Step-by-step guidance
Ashampoo Photo Commander comes with multiple wizards that offer step-by-step assistance for various tasks. Whether you're designing a calendar, creating a collage, or batch-processing hundreds of photos, there's a wizard that will guide you through the process, no previous knowledge required. Pick your photos, select an option, and you're good to go!
A powerful helper for your photo collection
A single application to review, sort and enhance your photos!
20 years ago, beautiful photos were scarce. 10 years ago, memory was scarce. Today, we've got both–but we've also got a veritable file chaos, thanks to hundreds of files! Ashampoo Photo Commander 17 not only turns chaos into neat photo collections but it also turns good into great shots, and can even make collages, greetings cards, and slideshows. Convert your photos, even automatically and in batches, add watermarks, and sort your files by location for instant visual clarity. Photo Commander is the all-in-one solution for you!
Full Windows 11 compatibility and 64-bit support
Maximum performance for all current Windows versions
Ashampoo Photo Commander 17 is not only Windows 11 compatible but has also been completely overhauled for true native 64-bit support and optimal memory management. It's the best-looking, fastest, and most stable Photo Commander yet. Whether you're editing single images or entire libraries, you'll feel the difference right away!
New technologies for more speed
Loads JPGs up to 40% faster
Version 17 pulls out all the stops: The program makes full use of the available memory and supports AVX for lightning-fast results. Numerous codec upgrades, new burning and scanning technologies, significantly snappier file management, and new handy wizards will have you breeze through your work. And it doesn't stop there: We've also enhanced video playback.
Operating System: Windows® 11, Windows® 10 (x64)
Release Name: Ashampoo Photo Commander 17.0.3 (x64) DC 09.11.2023 Multilingual
Size: 584.7 MB
Links: HOMEPAGE – NFO – Torrent Search
Download: FiKPER – UPLOADGiG – NiTROFLARE – RAPiDGATOR
Source: https://filekilo.com
Categories: Windows